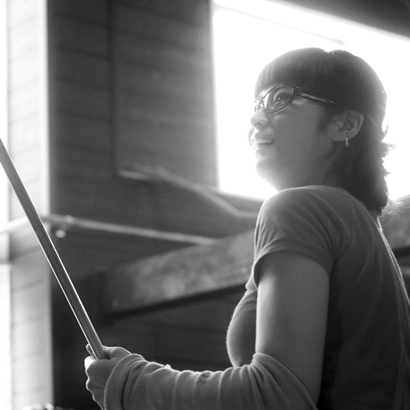 TALKS
Yukie Kimura
Glass Artist
Ms. Yukie Kimura was born in Osaka in 1978. She experienced melting glass for the first time when she was 17 years old. Fascinated by the indescribable charm of glass, she trained herself in glass melting and blowing techniques in Otaru after graduating from high school.
Although Ms. Kimura wanted to set up as an independent glass artist, she experienced a mental break down due to the strict work environment. She left Otaru two years later and worked as a glass crafting instructor in her hometown of Osaka, as well as gaining experience at a private workshop studio in Yokohama.
In 2009, she and her husband moved back to Otaru, her husband's hometown, where they decided to re-open Hokkaido's oldest pottery kiln "Otaru Oven Shirase Toen."
After seven months of repairing and refurbishing the oven, they were able to open up her own workshop, "Yukie Glass" in September of 2010. Ms. Kimura now creates vivid and colorful original works like aroma pots, art pieces, and glass wares as well as accessories such as pendants and earrings, fighting with melted, blazing glass in 1,200 degree Celsius day and night.